Registration for College 2023 has closed
Master Gardener College registration is now closed. We look forward to seeing everyone next week! Please check your inbox for the "Know Before You Go" email. That will have all the details you need as you plan your trip to Virginia Tech's Campus.
About 2023 Master Gardener College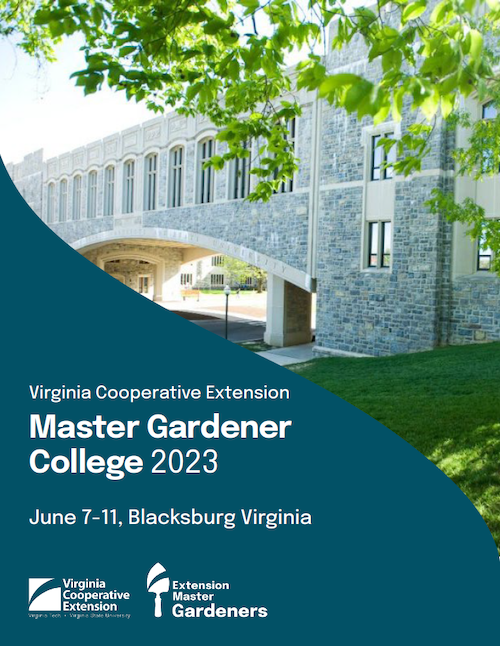 In 2023, Extension Master Gardener College (EMGC) will be held in Blacksburg, Virginia on the Virginia Tech campus June. Registration runs April-May 31.
EMGC is an opportunity for Extension Master Gardeners to broaden their education by learning from Virginia Tech (and other) experts, and it's an opportunity to network with other EMGs from across the commonwealth.
EMGC is a four-day continuing education conference with an optional fifth day for those participating in Tree Steward training. EMGC features five keynote speaker sessions and six concurrent sessions with numerous class options, along with an optional day of tours/workshops.
From the State Coordinator
Spring has officially sprung! We hope that you are enjoying the warming weather and are excited to be spending more time outdoors and preparing your gardens. As we progress into the year, Extension Master Gardener College is just around the corner and will be here before we know it! EMG College is our statewide continuing education conference for Extension Master Gardener volunteers. This year we will be back on Virginia Tech's campus for EMG College. The main portion of the conference will take place from June 8th – 11th, 2023, with optional advanced training beginning on the 7th.
Tree Steward Training is the advanced training offered this year for those who are interested. Visit page 6 of the program for a detailed description of what to expect for Steward training. In addition to that, we have a full schedule of speakers, tours, and workshops planned for what will be an exciting and engaging week in Blacksburg. We have some wonderful new tour opportunities, a schedule packed with interesting classes, and many opportunities for spending time with other EMGs.
We look forward to the opportunity to network, share ideas, and build new friendships during this week. Please let our team know if you have any questions about EMG College. You can find all College updates and registration information on our website. The Virginia Master Gardener Association has gathered a list of helpful tips about College for those who may be new to the conference, find VMGA's advice here.
We are so looking forward to College and invite all of you to join us for this full week of learning and engaging with your peers. I hope many of you will be able to join us in Blacksburg this June!
Best,
Kathleen and the EMG State Office Team
New for 2023: Schedule Changes
This year we have made some changes to fit even more programming into EMGC. We have:
Moved our dessert social to before the Thursday general session (rather than after).
Changed the length of some concurrent sessions to fit six total concurrents (rather than four) into the schedule. Sessions 5 and 6 are one-hour sessions while sessions 1, 2, 3, and 4 are the traditional 90-minutes.
We will also hold only one keynote session on Sunday (rather than two) followed by optional boxed lunches to allow participants more time to travel home.
One day registration options! Attend for only one day (Friday or Saturday) at a discounted rate.
Costs (subject to change)
Registration fees:
Registration Fee (until May 17): $210.00
Late Registration Fee (May 18-31): $235.00
Tree Steward Training: $100.00
Friday only registration: $110.00
Saturday only registration: $110.00
Agent/Coordinators: Complimentary
Milestone Discount Registration Cost:
1,000+ Hour Milestone total cost: $180 (which is a $30 discount)
5,000+ Hour Milestone total cost: $155.00 (which is a $55 discount)
10,000+ Hour Milestone: Complimentary
Meals:
A meal plan is required for those staying on campus and will include breakfast, lunch, and dinner at the following rates: Breakfast: $10.65; Lunch: $14.45; Dinner: $15.65
On campus housing:
Single room, per night: $65
Double room, cost per person, per night: $56
Milestone discounts are available for milestones reached in 2022 or in 2021 (as long as the 2021 milestone discount was not used for last year's conference). Milestones earned in previous years do not qualify for discounts.
All rates are subject to a 5.3% sales tax. There will be a $5.50 service charge added to each reservation made via the online registration portal.
Registration deadline: May 31
Tree Steward Training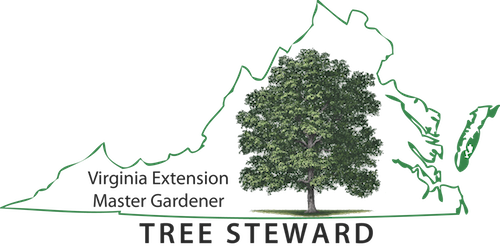 What do you think when you see a huge, beautiful tree? How did it get so big? What can it teach us? How can we help it survive for another generation or more? And what about a newly planted oak – does it give you a bit of hope?
If you are still reading, then you know how important the trees are to our present and future. This includes trees in parks and gardens, on the streets, in the forests, and in our environmental planning. How can you help? You can become an Extension Master Gardener Tree Steward. The opportunity is available at this year's EMGC.
This advanced course was last offered statewide at EMGC 2018. The training program is based on the 2021 EMG Tree Steward Manual (used in draft in 2018). While a few units and regions are able to offer local EMG TS training (based on the same manual), most units cannot muster enough participants or instructors. The EMGC TS Course is meant to fill that gap, encouraging units to grow their own Tree Steward programs with the goal of improving tree knowledge and care as part of Virginia's EMG outreach.
Save the date for additional Zoom sessions: Tree Steward training will include a Zoom session before EMGC: Thursday June 1, 10:00 am -12:00 pm And a Zoom session after EMGC: June 21 or 28 1:00 pm (come to one or both).
VMGA Scholarships
The Virginia Master Gardener Association (VMGA) is accepting nominations for the
Diane Relf Extension Master Gardener College 2023 Scholarship. The Scholarship recognizes those volunteers who have demonstrated exceptional potential in their local Units, and it is part of VMGA's educational mission. It's awarded to deserving Extension Master Gardeners to help them in their continuing education efforts through attendance at EMGC and to increase the number of EMGs able to attend the conference. Any interested active EMG is eligible for nomination; financial need is not a required criterion. (Trainees, interns, and prior VMGA Scholarship recipients are not eligible.) This year's Scholarships are intended to cover most of the costs to attend EMGC. More information on VMGA scholarships here.