By Debi Edwards, Virginia Beach Master Gardener
The Virginia Beach Seed Library was created as a joint project of the Meyera E Obendorf (MEO) Central  Library and Virginia Beach Master Gardeners (VBMG) to entice the general public to start planting home gardens.  Since the grand opening in 2018, we have distributed 23,287 seed packets (over 232,000 seeds!) to 719 participants.
Due to COVID-19, for 2021 instead of direct public contact at the library seed cart, we are creating Seed Pack Kits versus participants choosing seed packs directly from the cart. The kits are handed out at the library's information desk upon request. We have also added Princess Anne Library this year to our distribution and have gotten the okay to be in all Virginia Beach libraries in the future.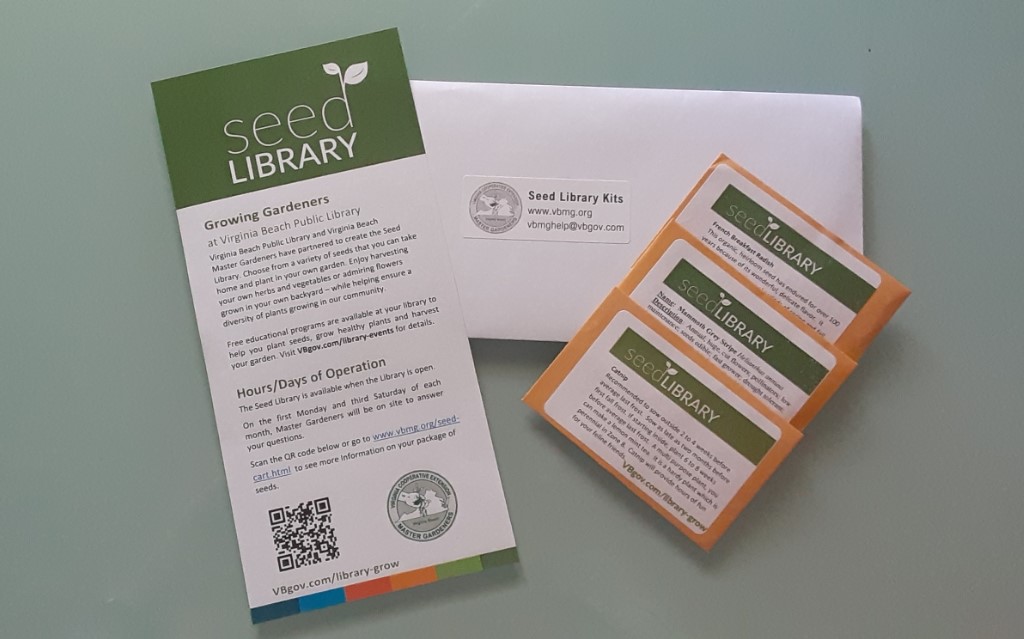 Normally, participants are able to choose monthly 1 packet (10 seeds each) of a Vegetable, Herb and Flower selection.  Each month the seed packet coincides with what should be planted that month to teach the public what to plant when during the year.  Each packet has a brief description of how to plant the seed along with a notebook at the cart that describes each item more thoroughly and a brochure with QR code/website link to VBMG.org and the library system to obtain more growing information.  An interested participant fills out a "contact card" and places that into a slot at the cart. This allows VBMG and the library to contact them about other Master Gardener and library events. Each month they can come and select a new set of seeds to plant. We currently have 719 contacts signed up at the MEO Central Library.
In addition to volunteers monitoring the cart and keeping it stocked every day of the week with 30 packets each of the Vegetable, Herb and Flower selection, we also had volunteers who came out twice a month, on the first Monday and third Saturday to answer questions and put together the packets for the next month's selections. This entails separating 10 seeds each from a seed company donation package into a small envelope, placing the seed instructions sticker on one side and a library sticker on the other. There are also volunteers for contacting and cataloging the seed company contributions and administrative management to be the library liaison and track distribution. When the program first started, we continuously ran out of seeds before the end of the month; we didn't anticipate how popular the cart was going to be. But now we have participating seed companies donating enough seeds to keep the public growing!
Not a day went by when we were at the cart that someone didn't come up to ask about the cart or talk about their gardening experience. I have talked with many children who are starting plants in their rooms or on window sills and having a wonderful time learning to grow. We talk about balcony gardens, small gardens, container gardens; people are attempting to grow in all types of situations. Many people are using the cart as a reference, having moved here from other areas needing tips on our climate and growing patterns.
Until we are physically back at the cart, volunteers are receiving packing projects weekly to sort, label and assemble the kits for the library information desk distribution. The kits consist of all 3 seed packets and a brochure about the program with links to the library and Virginia Beach Master Gardeners websites. Instead of choosing which seed packs they want to grow, participants have the opportunity to try all three types of seeds or share with family and friends, spreading the word about the Seed Library. Hopefully we can resume direct public contact at the library cart in the near future, but for now, during COVID-19, this has proven to be a great solution! For inquiries about starting a Seed Library Cart, contact the current project leader, Debi Edwards, dedwards17@cox.net.