By: Paul Ziegler, Norfolk Extension Master Gardener
For over 10 years, Norfolk Master Gardeners have operated a Demonstration Garden at the Fred Heutte Center in Norfolk's Ghent neighborhood. The garden, consisting of 40 4ft X 4ft raised beds, utilizes Square Foot Gardening techniques to demonstrate how to maximize food growing potential in an urban environment. The entire garden is maintained by a cadre of extremely dedicated Norfolk Master Gardeners and a few neighborhood volunteers. All produce is donated to the Foodbank of Southeastern Virginia. It has served as a hands-on educational opportunity for not only our Interns, but for our "seasoned perennials" as well. It has been a central focal point to helpgroups and individuals interested in growing their own produce.
The Project Leader, Tom West, and his crew educate the public on vegetable and Square Foot Gardening techniques as part of the Norfolk Master Gardener Speakers Bureau. Since 2015 they have conducted a Square Foot Garden "Open House" during the traditional annual Friends of Fred Heutte Center Herb Sale and Craft Show to help promote interest in home food production. This event generates well over 200 contacts during the two-day period each year. Norfolk Master Gardeners have regularly hosted interested groups and conducted public presentations at the garden.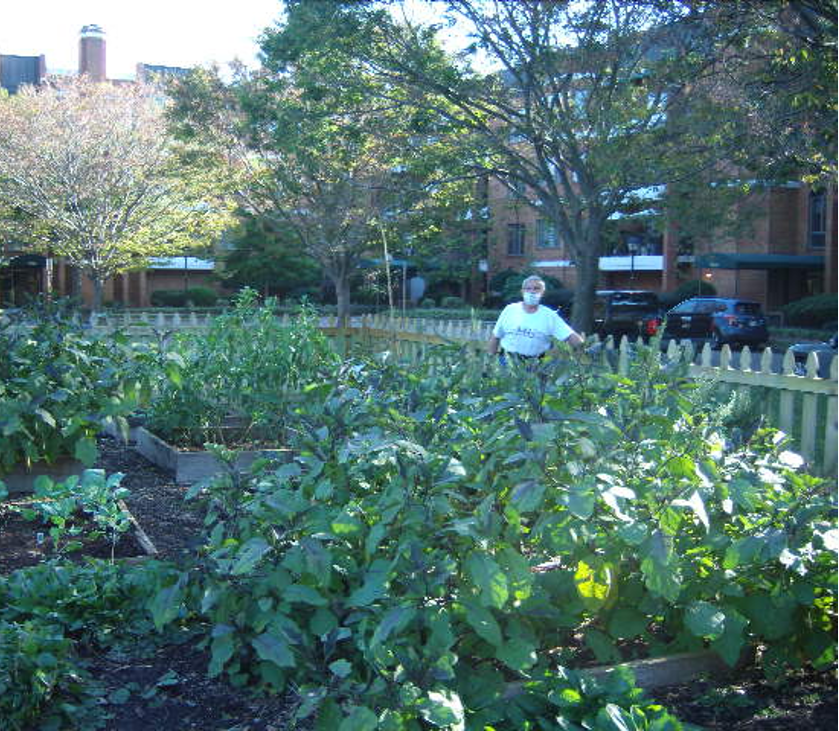 Every Thursday morning, the garden keeps our volunteers busy with routine garden maintenance, plantings and harvesting while using both relay and succession plantings for seasonal production throughout the year. We routinely have the opportunity to give onsite gardening advice and education to pop-in visitors while working in the garden. Typical vegetables grown in spring and summer include potatoes, lettuce, tomatoes, bell peppers, okra, eggplant, cucumbers, squash, and zucchini. For fall harvest, the gardeners normally plant collards, kale, and cabbage. Finally, onions and garlic are planted to overwinter for a late spring harvest.
Over the past 10 years, Square Foot Gardening techniques at this garden have allowed the Norfolk Master Gardeners to contribute approximately 15,000 pounds of fresh vegetables to our local Foodbank.
How we handle COVID-19
When concerns over COVID-19 first began to impact our programs in early March 2020, the Norfolk Master Gardeners at the Heutte garden began to assess potential impacts to their ability to continue to maintain the garden.
We anticipated that the Foodbank would see an increase of people needing their services while also seeing a reduction in contributions. We wanted to ensure that we could continue to provide much needed assistance through our garden donations of fresh produce.
During the winter months, some of our raised bed boxes were replaced, and we replenished the mulch walkways between the beds. We added a new table-level raised bed to demonstrate another urban Square Foot Gardening option. By early March we already had plans for planting the potatoes.
We weren't sure how the stay-at-home orders, shutdowns and restrictions were going to affect our ability to obtain the transplants for spring planting, but decided to forge ahead with plans to keep the garden activities going as much as we could through the seasons.
As restrictions were put in place by the Governor's Executive Orders, and VCE Guidelines were promulgated we were quite sure we could easily meet the requirements.
Our garden work area was large enough to safely accommodate 10 workers and social distancing was easy.  The 4×4 boxes and space between them made the 6 ft social distance requirement easy to visualize.
Initially, in the early part of the season we were a small group of four or five, but found that as many activities were forced to shut down, both our perennial MGs and our new Interns were looking for work opportunities. To limit our group to no more than 10 people, we established a sign-up process and then established a core group with substitutes filling in when members of the core group couldn't attend a certain session.
Although not required in early orders or directives, we made the decision early on to ask all to "mask up" while working in the garden to protect each other. We also stipulated the need for gardeners to bring their own tools and gloves.
Tom set up a hand-washing station. He even provided extra hand sanitizer and masks in case someone had forgotten to bring their own supplies.
Potatoes were planted near the end of March, and by mid-April, we were able to obtain our transplants and seeds to start planting the garden for spring and summer. In prior years, we would be joined by middle school-aged children from Montessori Ghent in a morning of planting, but this year we were limited to just our group of 10 people. We planted over 460 transplants to include: tomato, bell pepper, cucumber, yellow crook- neck squash, zucchini and Japanese eggplant. We followed up with additional plantings of bush bean and rutabaga seeds, as well as romaine lettuce. We were able to easily comply with social distancing measures by having only one individual plant a particular raised bed box.
The first delivery to the Foodbank was at the start of June, when we delivered 171 pounds of onions and garlic that had been planted the previous fall and some heads of romaine lettuce.
From then on we conducted weekly harvests of spring and summer produce for delivery to the Foodbank, amounting to 1,200 pounds as we transitioned to our fall vegetable garden efforts.
In mid-September we conducted our fall planting of collards, kale, and cabbage in time to harvest 100 pounds for Foodbank distribution for Thanksgiving. In December, we planted onions and garlic for overwintering, and harvested another 168 pounds of cabbage, kale, and collards for Christmas.
Through the dedicated efforts of Norfolk Master Gardeners and local volunteers, the Fred Heutte Demonstration Garden delivered a total of 1,626 pounds of much-appreciated produce to the Foodbank of Southeastern Virginia in 2020. Their efforts resulted in 293 work hours for 2020.
Norfolk Master Gardener Association President Anna Thurmond said: "The Square Foot Garden Project is a great asset for Norfolk Master Gardeners and the city of Norfolk. All of our projects are based on horticulture's educational benefits, but our Square Foot Garden goes above and beyond by providing hundreds of pounds of fresh produce to the Foodbank. We are so pleased to recognize this project and those who volunteer to make it possible."
Norfolk VCE Agent Chris Epes stated: "This year the Norfolk Master Gardeners were asked to pivot from our normal educational duties to addressing dire community needs that were exposed and amplified by COVID-19, not the least of which is hunger. As such, the Master Gardeners, out of necessity, took on a similar role as farmers, and tasked themselves with producing food for the community. Those involved with the Fred Heutte Square Foot Garden project led that charge by leaps and bounds, ultimately being responsible for nearly 900 meals distributed by the Foodbank to hungry area families in 2020. I'm immensely proud of those responsible for this accomplishment, and I hope this illustrates to people the kind of impact that anyone can make at home with a little work and a few square feet of soil."
NMGs Involved: Tom West, Paul Ziegler, Kate Whitlock, Kim Stewart, Dusti Johnson-Brinker, Cathleen Owen, Lucia Herndon, and Susan Boice. Community Volunteers: Marc Rabinowitz, Ed Marroni, Aaron Zweig (EVMS Student), Anna Degrauw.