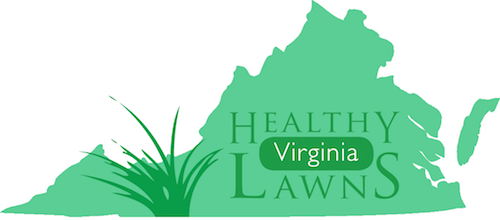 The following program materials are provided for units that wish to start a Healthy Virginia Lawns (HVL) home lawn nutrient management program.
These materials are based upon core commonalities in existing MG-led lawn nutrient management programs in the state and by the requirements for a certified nutrient management plan through the Virginia Department of Conservation and Recreation. A team of Extension Agents, Specialists, and the State MGC Office faculty and staff worked over the course of a year to make these resources a reality. We hope you find them very useful in starting your own local Healthy Virginia Lawns program!
Program Introduction
The Healthy Virginia Lawns (HVL) program is designed to provide science based lawn fertilization recommendations and other best management practices to homeowners. This video covers the how and why of this program, and provides details about how this program can be implemented locally. The HVL program is a joint venture between Virginia Cooperative Extension Master Gardeners and the Department of Conservation and Recreation. For more information, please contact your local Virginia Cooperative Extension Office or visit the Extension Urban Nutrient Management page.
A short promotional video designed for the public is also available and can be found here!
Brochure
Use this brochure as is or customize it to fit your unit's local program. Elements of the customizable brochure are editable in PowerPoint.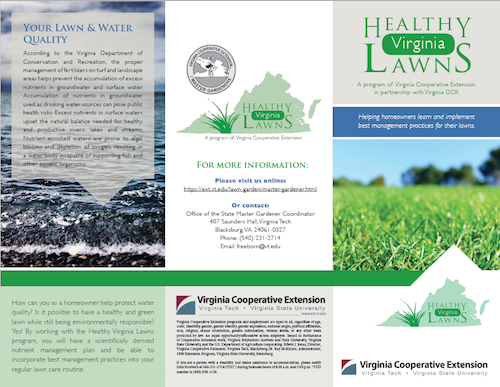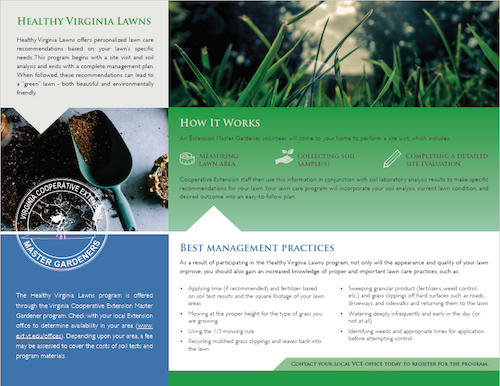 Documents
Documents that may be personalized with unit-specific information have a .docx file as well as a PDF listed below. For your convenience, unit-specific text is highlighted in yellow for editing in each Word document. You must download each file in order to edit it.