By Christine Atkins, Piedmont Master Gardener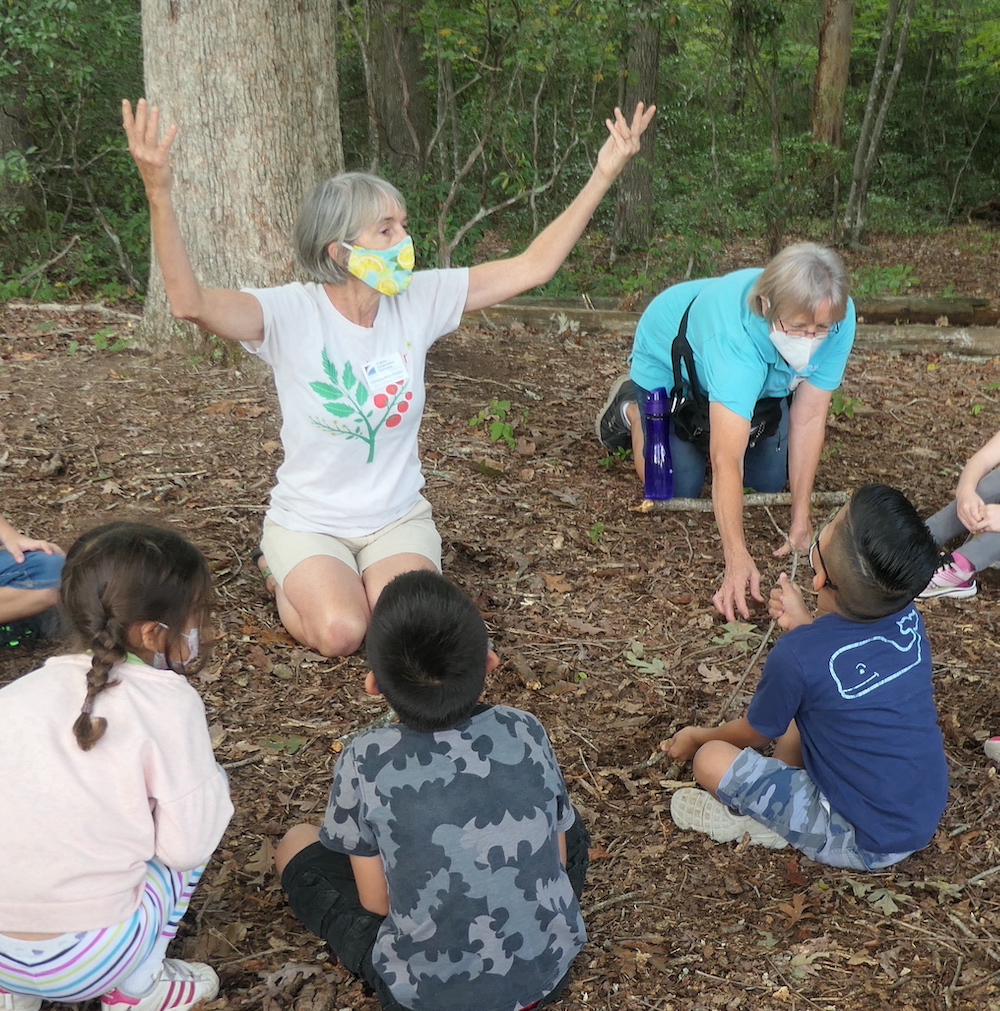 In 2021, the Piedmont Master Gardeners (PMG) began a partnership with Albemarle County Public Schools to provide gardening instruction and support at three elementary schools, beginning with Mary Carr Greer Elementary School. Greer serves the most diverse student population of any Albemarle County school, and some 75 percent of its students live in households below the poverty line.
Since last September, PMG volunteers have collaborated with Greer teachers to provide lessons to all first- and third-grade classes once per month to enhance their love and understanding of gardening and the environment. The lessons are structured to meet approved Virginia Standards of Learning for science, social studies and mathematics and were developed by Piedmont Master Gardeners who are retired teachers. Some examples include:
Science – germination, plant life cycle, butterfly host plants and life cycle
Social studies – products that come from plants, dyes made from plants
Mathematics – measuring and weighing pumpkins, measuring the area of garden beds and comparison and sorting using different types of seeds (color, size, shape, etc.)
Environment – observations on a nature walk, decomposition of pumpkins, creation of a compost bin, impact of plantings on soil erosion
This particular student population was greatly impacted by the pandemic, and these classes served as 'mini-field trips,' providing a hands-on, outdoor experience. We received very positive feedback from the principal, the teachers and the children.
As this collaboration got underway, it became clear that Greer needed to replace its badly deteriorated raised beds for vegetable gardening. In coordination with Greer's principal and staff, PMG successfully applied for a grant to build a new outdoor learning space designed to be a model site for engaging children in gardening and horticulture. It comprises ten raised beds for vegetable, herb and flower gardening, a place for composting, benches and worktables, a weather station, a shed with a rainwater capture system, an instructional area with a chalkboard, and an eight-foot deer fence around the perimeter.
In addition to being a model outdoor teaching space, the Greer School Garden Project is a model of how community partners can join forces to achieve a common goal. It was funded with $5,000 from Greer School, a $5,500 grant from the Piedmont Master Gardeners and a $10,000 grant from Building Goodness Foundation, a nonprofit construction organization that works with other Charlottesville-based nonprofits and local volunteers to build structures that meet community needs. Alloy Architecture + Construction, a local design-build firm, designed the garden pro bono and devoted a staff volunteer workday to building it. Bob Putnam, a retired builder, contributed his services as construction manager.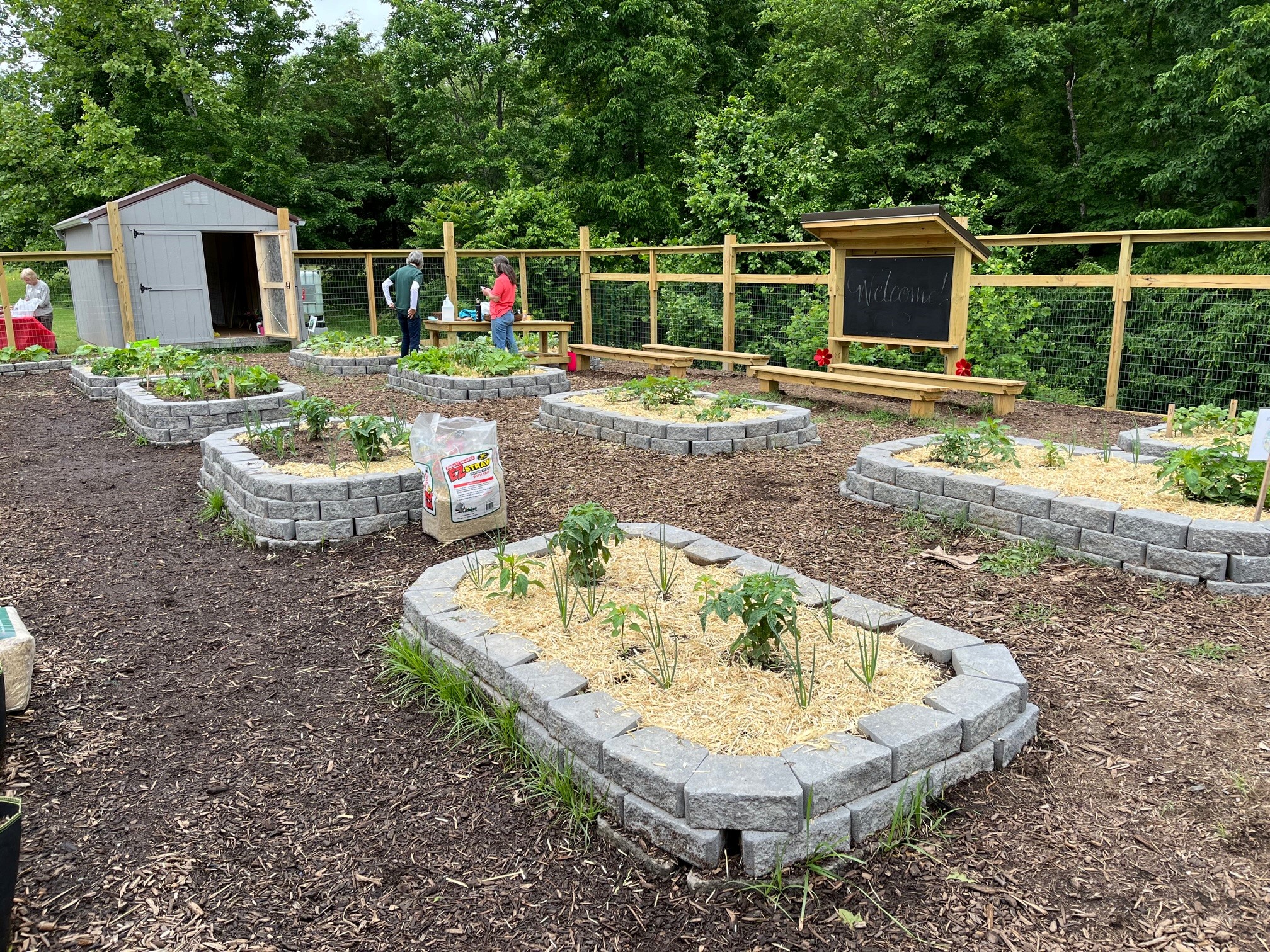 All told, these and other volunteers provided nearly $28,000 worth of time and services to complete the project, including 186 hours contributed by the Piedmont Master Gardeners.
As the new garden was being planned and built, the Piedmont Master Gardeners taught their lessons to first- and third-graders in Greer's uniquely landscaped courtyard. PMG volunteers have worked with Greer teachers to restore and expand the plantings in this area. It is designed to be a living lab, with such natural features as a rain garden and a pollinator garden that was sheet-mulched by PMG volunteers and replanted by students under the supervision of Master Gardeners.
Impact
At Greer School, the Piedmont Master Gardeners have provided hands-on instruction on how plants grow, how to live healthily, and how to garden in ways that are friendly to the environment. The school's new garden and rehabilitated courtyard will allow PMG volunteers to continue and expand on this work.
As noted above, this project serves the school with the most diverse student population of any in the Albemarle County system. Comprising approximately 500 children in kindergarten through fifth grade, Greer School's student body is 33% Hispanic, 27% African American, 7% Asian and 8% multi-racial. Of this population, there are more than 31 languages spoken at home, giving Greer the largest population of English as a Second Language students.
The majority of these students do not live-in single-family homes with yards, but rather live in apartments, and consequently, have no access to gardens and are also at risk for developing unhealthy eating habits. We hope to change that trajectory. We are arranging for various families to tend the garden during the summer and bring the harvest home. Any excess harvest will be donated to the nearby food bank, Loaves and Fishes.